International Soccer Tours
Colorado Rapids Youth Soccer Club (CRYSC), one of the nation's largest and most trusted youth soccer organizations, offers international, educational soccer tours for CRYSC membership. These international soccer trips include fully customized itineraries, access to world-renowned youth academies and facilities, and an opportunity for players, coaches, and families to expand their horizons while being immersed in a soccer culture.
Trips will be offered for players across all five regions of the Club. Competitive & Elite Program members will have access to at least three trips from 11U through 19U, with each trip targeting a unique soccer destination in Europe. In addition to club-wide travel offerings, individual teams from any region, age, program, and level can work with the Director of Club and International Partnerships, Jeff Oleck, to create their own specific trip experience. The role of the Director of Club and International Partnerships is to provide members with a seamless experience from trip sign-up to tour departure.
Jeff Oleck is CRYSC's residential international traveler and former Director of Goalkeeping. Jeff has planned and overseen dozens of international trips for soccer players, alongside his passion project as a core representative for Field of Dreams Uganda – a non-profit organization that provides hope, empowerment, and a future to the vulnerable children in Uganda through the vehicles of soccer and education.
| | | | |
| --- | --- | --- | --- |
| Competitive Age Group | Destination | Travel Dates | Registration Deadline |
| 2011 (12U) BOYS | London & Manchester | March 11-19, 2023 | November 20, 2022 |
| 2011 (12U) GIRLS | London & Manchester | March 18-26, 2023 | November 27, 2022 |
| 2009 (14U) BOYS | Barcelona & Madrid | March 11-19, 2023 | November 20, 2022 |
| 2009 (14U) GIRLS | Barcelona & Madrid | March 18-26, 2023 | November 27, 2022 |
| 2006-04 (17U-19U) BOYS | Munich & Salzburg | January 14-22, 2023 | September 26, 2022 |
| 2006-04 (17U-19U) GIRLS | N/A | Tour Cancelled | N/A |
2023 International Trips General Timeline
International Tours Video
Find Your Trip On The Map
#CRYSCInternational Testimonials
"Our family had an incredible travel experience with CRYSC this summer. In a short time, players grew as a team and expanded their mental soccer capabilities. Players were exposed to a different style of play and bonded quickly with Irish teammates over their mutual love of soccer. Families had the opportunity to attend a professional soccer match, sightsee, and leave the trip with an incredible appreciation of Irish culture. This experience is something we will remember fondly for years to come."
Ryan & Elaine, Rapids South Parents, Ireland '22 
"Playing against elite youth in England was eye-opening. The physicality and intensity were like nothing our boys had seen before. There's only so much you can learn in a week on the pitch, but what really stuck with him was how good you have to be to continue to play at an elite level. It was humbling, yet amazingly beneficial. Even three years later, we still talk about the stadium tours, the scrimmages, the landmarks, the hotels, the friends and the fun we had."
Robert & Christina, Rapids Central Parents, England '19
"Our 2022 summer trip to Ireland was a life changer not only for my son but also for me. We saw firsthand the passion for soccer, history, and culture during each stop along the way. The behind-the-scenes access was incredible! I had been to Ireland before but this was an entirely different and deeper experience. Seeing my son's jaw drop at not only the level of soccer talent but also the national and natural treasures have left a lasting impression on him. I personally loved getting to know the families better and seeing them on the sidelines today is a whole different ball game. Most importantly, the bonds the boys formed having traveled and played internationally will pay them dividends for a lifetime!"
Greg B, Rapids South Parent, Ireland '22 
"The CRYSC Ireland tour provided players and families an opportunity to be immersed in the unique history and culture of the Emerald Isle while experiencing soccer at the top level. On the field, we tested ourselves against Ireland's best within the age group, trained in National training grounds, and shared the experience of working alongside Ireland's top youth soccer coaches. An opportunity of a lifetime and an honor to share my soccer roots with all involved."
Daniel Agnew, Rapids Team Coach, Ireland '22
News About CRYSC International
#CRYSCInternational By The Numbers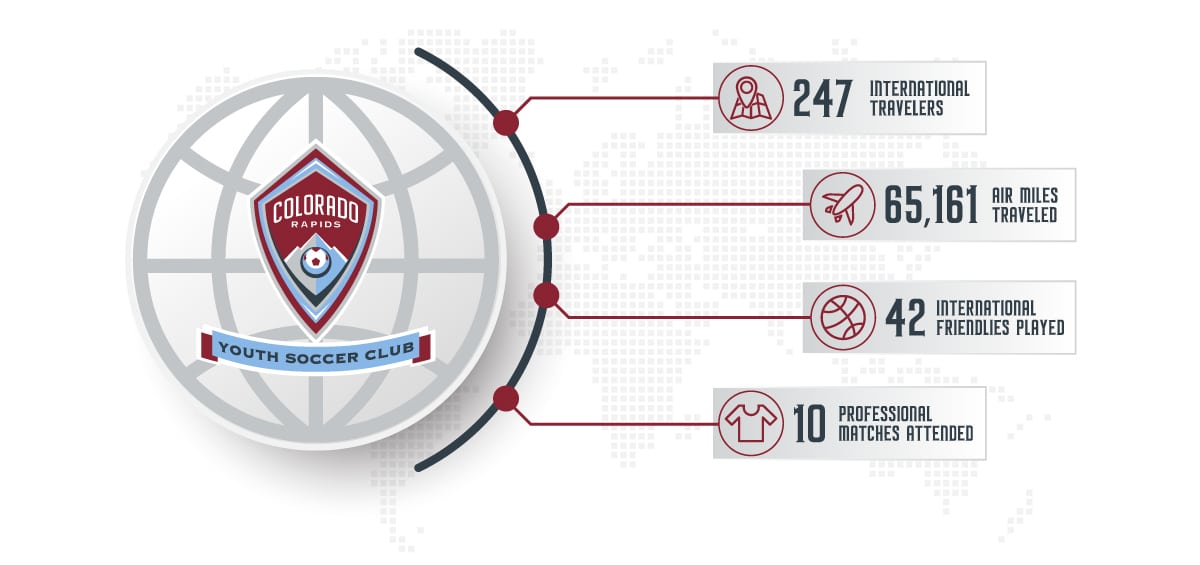 International Soccer Tours | FAQ